Award-winning supplier
At this year's DRiV Supplier Days, only the most important suppliers for the new Kinetic chassis from Tenneco were invited. For us, the company KAISER Aluminium- Umformtechnik GmbH, it was an honor to be among them and to use the opportunity to be informed about the current developments in direct conversation.
During a test drive, our Mr. Schinle and Mr. Kessler were impressively demonstrated the function of the new chassis technology.
"Developed by Tenneco's ride control engineers for top-of-the-range vehicles including supercars and high-end SUVs, the Tenneco Kinetic™ H2 CES is an interconnected passive, reactive system that provides continuously controlled damping and high roll stiffness with reduced articulation stiffness.
With the system, vertical tire loads are optimized, resulting in significantly improved on-road traction and performance. The continuously controlled damping works with the "skyhook" principle for body control with additional algorithms for wheel hop, steering, braking and acceleration control.
In the new Kinetic™ H2 CES system, the front anti-roll bar, rear anti-roll bar and four shock absorbers have been replaced. In their place are four double-acting hydraulic cylinders each with two integrated CES damper valves, four roll accumulators, local comfort valves, an automatic pressure maintenance unit (APMU) and interconnecting hydraulic lines.
The two CES damper valves at each corner restrict the flow between the cylinder and accumulators to electronically control roll, bounce and pitch modes, allowing decoupling of transient ride and handling performance.
Furthermore, the use of the electronically controlled CES damper valves, combined with intelligent control algorithms, allows independent control of body and wheel motions"*
Kaiser supplies DRiV with housings for the production of this system.
Despite the initial challenges, we are very positive about the future of this project.
In recognition of our efforts, we were awarded the "Resilience" award.
We would like to thank all our employees and colleagues for their dedication and effort, without whose support the implementation of this project would not have been possible. Furthermore we would like to thank the team of DRiV for the competent and trustful cooperation.
Source: Tenneco.com – Kinetic Brochure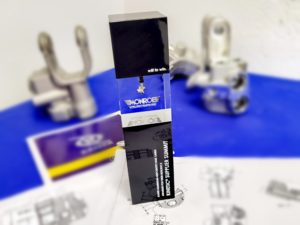 Movement is progress
We are on a growth course and are investing – with our company expansion – in a further and future-oriented step of our success story.
For more information do not hesitate to contact us.

Craft is gold-plated
Our company founder – Ottmar Kaiser – was awarded his golden master craftman´s diploma on 27.09.2019. For more than 40 years he has been a master in the craft of toolmaker.